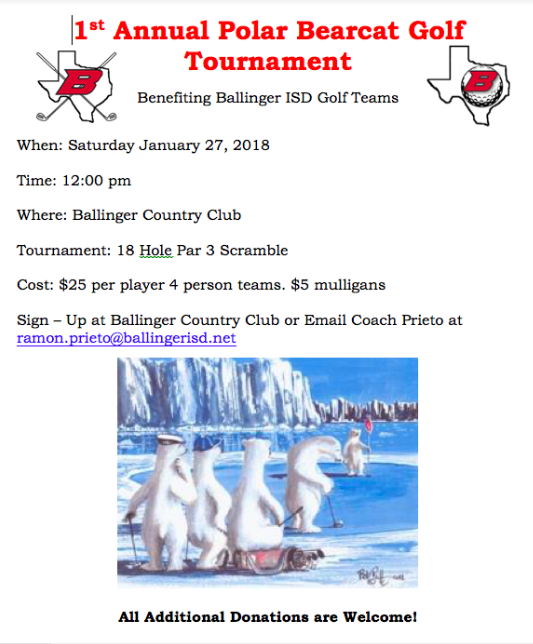 We need people to come play in the tournament, it's coed. People who play don't have to be member of the Country Club; any skill level is welcome from beginner to expert it's a fun golf tournament with some wacky rules on the front nine. It's a par 3 scramble the course will be shorter, and play the best ball on the team. Gifts and Gift Cards will be handed out as prizes to the Top 3 teams and also to the winners of the three contests. Longest drive waffle ball or marshmallow, closest to the pin and Angry Golfer Club toss.
We're looking for teams of 4 but if there are teams of 3 or 5 that will be fine. If someone wants to play but doesn't have a team or doesn't know who to ask; that's fine we will put people into teams. If someone's child is playing golf High School or Jr. High there child can play with them on their team. It's $25 dollars a person, and we're hoping that those interested in playing sign up by Jan 26th but if we have people show up the day of to sign up to play that will be fine we will accommodate them. People can sign up at the Golf Course, by Contacting Coach Prieto via email or phone and I can send out a sign up sheet.
We will have a closest to the pin contest, a longest drive contest with a waffle ball or marshmallow, and an Angry Golfer Club Toss. Mulligans will be $5 a piece, The Booster Club will set up a concession stand selling treats and drinks.
Attention all business: Our Golfers are going around town trying to collect donations. If any business would like to donate please contact Coach Prieto, it can be gift cards or certificates. All businesses and people donating will be recognized for their generosity.